Kitchen Cabinets
Many of our clients have Amish-made cabinetry created custom just for them by the artisans at William's Custom Kitchens. The bonus… our clients can have them painted any color in the world! Trends are moving more to creamy white cabinets. We love the Hallman Lindsay color White Shoulders. Warm white colors pair beautifully with blue/gray backsplash tiles, wood finishes and warm metals like brass.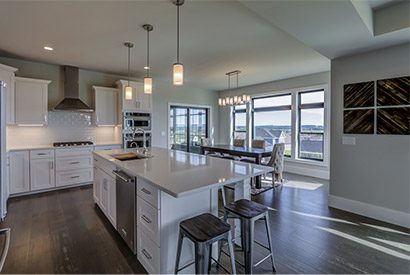 Quartz countertops
You will love your engineered quartz countertops and will want to ear-mark your budget dollars for these nearly maintaining free countertops. Quartz now has visual interest and mimics the natural flow and rhythm inside of a stone…without the hassle and worry of granite.
Painted Ship Lap
We all know and love white ship lap! Our clients are creating pops of color and design interest in powder rooms and entryways with ship lap painted soothing colors.